Kim Woodburn Is Planning To Write An Erotic Novel, Luvvies!
When it comes to divisive television characters of 2017 they don't come much more scandalous than Celebrity Big Brother's Kim Woodburn. The former-How Clean Is Your Home host made headlines when she entered the house late, proceeded to get wasted then had a truly epic argument with former glamour model Nicola McClean:
As if that wasn't enough, she got out of Celebrity Big Brother after finishing in third place then immediately went on This Morning and started a huge fight with Phillip Schofield:
Obviously she felt that Phillip was too chicken-livered to deserve her time.
And now Kimberly has announced her intention to pen a filthy erotic novel.
Speaking to The Sun she said:
I'm 50 shades of Filth! I'm thinking of writing a mucky book and I would call it 'There's Nothing Dirty In A Clean Bit of Filth!'
undefined
Not exactly the snappiest title in the world but can anyone actually remember a time where a celebrity-turned-author actually published any kind of worthwhile piece of literature? If Kim does write this book we can pretty sure it'll be schlocky nonsense, but honestly, isn't that what we all want from a Kim Woodburn erotic novel?
This isn't the first time that Kim has dabbled with her naughty side. In the CBB house she discussed how she wanted to work for a sex line after she left the house:
If television work doesn't come in after this I'll be on the b*tchy sex line!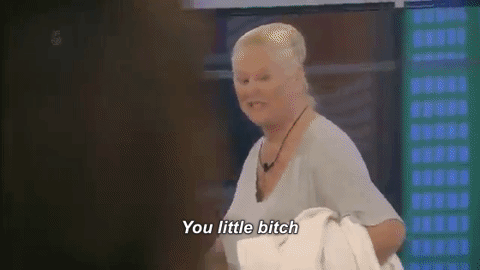 undefined

Fellow housemate Bianca Gascoigne agreed that she could see Kim doing well at that because some men 'like that dominatrix type of sound'. Yowzers.
What do you reckon to that, luvvies? Would you ever want to read Kim's saucy book or does it all sound a bit too weird for you?
Featured Image Credit: Channel 5
Topics: Entertainment, Celebrity Big Brother, Kim Woodburn, Funny, Sex, CBB, Book