Pretty 52
http://www.pretty52.com/
http://www.pretty52.com/assets/images/theme/logo.svg
If you're a singleton on Valentine's day, all the cheesy cards, romantic gestures and social media posts can be a little bit overwhelming. First becoming popular with romantic love in the 14th century, the celebrations have blossomed to a point of no return and the day of love is practically inescapable unless you lock yourself in a cupboard.
If you're a little bit sick of seeing the #LuckyGirl tags on your timeline, it might be time to plan your own V-Day treat - after all, loving yourself is more important than loving somebody else.
Here's our guide to a wonderful Valentine's day, just for you.
Don't feel sorry for yourself.
Valentine's day tricks us into thinking we need someone to be happy, and we absolutely don't. You can have just as much fun having some me time as you would being waited on in a busy, overpriced restaurant surrounded by a bunch of other people doing the same. And trust us, all the fluffy teddies and Pandora charms in the world won't make you truly happy!
Get active!
Is there an activity, show, gig or dance class you fancy? Now's the time to treat yourself. Do some research, buy those tickets or book in and get ready to have a fab time. Either that or plan a nice big run for yourself or a gym session - there's no better feeling than kicking butt and reaching a goal.
Don't fancy going out? Plan the perfect night in.
Buy yourself a nice bath bomb, a cleansing face mask, get your nail varnish out and have a pamper. Time to shave those legs and fake tan! A relaxing bath with your fave playlist (we'd recommend the Fifty Shades Darker soundtrack, as it's got just the right amount of inspiration for some self love *wink*), a glass of bubbly in hand and a plan to get yourself all shiny again will make you feel amazing.
Don't forget the food!
Tonight is your night girl so it's time to say those magic words: "treat yourself". Order whatever you want - pizza, Chinese food, a curry, the world is your oyster (Ooh, oysters maybe?!).
And of course the wine.
No perfect night is complete without your one true love, and wine will always be there for you.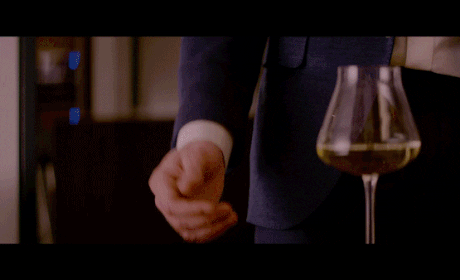 Date your gal pals.
Sisters before misters is the rule, so once you're all pampered and feeling fresh, get on the phone and have a catch up with your best girls. Life gets in the way sometimes, so it can be the perfect night to remind each other who's most important in your life.
Finish off the night in bed.
Get yourself comfy, pop on Fifty Shades, swoon over Jamie Dornan, finish off your wine and go to bed content in the knowledge that you're well rested, feeling fabulous and happy to be where you are. Feel free to partake in a visit from Mr Rabbit too, if you know what we mean.
Or you know what?
Do whatever the hell you like. The best part about being single is that you don't have to answer to anyone except yourself. SLAY!
And one last thing...
In the words of RuPaul Charles, if you can't love yourself, how the hell you gonna love somebody else?

The Fifty Shades Darker soundtrack is available to buy now on Amazon, or you can stream it on Spotify.
Featured Image Credit: Universal Pictures