​11 Signs Your Pet Is Your Best Friend
There comes a time in every gal's life, when you realise who your real friends are. You can see clearly who are the ones that'll stand by your side through thick and thin. Who can come to you when you're down and instantly pick you back up. Who, without doing really anything at all, can make you smile. And nine times out of ten, this friend will more than likely be a dog. Or cat. Or budgie. Who needs humans anyway?!
1. You never get bored. You can literally spend every waking minute of every day with your four-legged friend, and never feel bored. You find yourself having genuine conversations and laughing away at your little pal, and you don't even feel like you're going mental in the process. It's actually okay.
undefined

2. They totally understand you. Not only do you speak to your fuzzy com padre, but you actually start to believe that they kind of understand you. They become your own personal psychiatrist. Your go-to-guy.
3. You have your very own little model. Every other photo on every piece of technology you own, is of your pet. They're your lock screen, and background too. You have absolutely zero shame in posting these photos on every form of social media going. If you're truly dedicated, they may even have their own Insta account! If you're truly truly dedicated, they may even have Facebook. Like back in the good old days of 2k7.
4. Selfies are never limited. When you've got a phone in one hand, and your bezza in the other, and all the time in the world, selfie opportunities are never hard to come by really, are they?
5. All previous arrangements go out the window. You're more than happy when plans with your mates get cancelled, just so that you've got the excuse to get comfy and cozy in your p.j's, slobbing out with your BFF. It's not even shameful. It's love.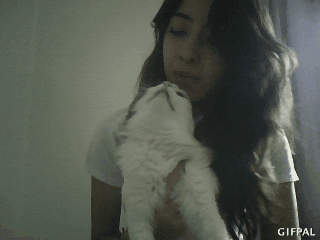 undefined

6. They're a priority. Your boss, friends, family, boyfriend and everyone else you're even remotely connected to understands that they will always be second best to your dog/cat/insert exotic creature here. Your furry pal will always be your priority, and you have no plans to change that.
7. You need their approval. If you meet a nice new fella, or are introduced to a new gang, it's very important that your pet completely approves. Your measure of potential friendship relies purely on whether or not they get along with your pet. If they're a little sketchy, or not 100%, chances are you don't need that negativity in your life. Why would you not listen to best friend?
undefined

8. Celebrations are important. You spend more time planning what you're going to get your pet for their birthday, than you do your partner. Christmas morning revolves around watching your pet run around wild in wrapping paper, and watching them open their gifts. New Year's Eve is spent making blanket forts to protect your pampered pooch from those pesky fireworks.
9. You hate being apart. As much as you love being the occasional international jet-setter of your dreams, there is a down side to flitting across the sky and sea when it comes to the realization your pal can't come with you. You've taken up camping holidays just to bring them along. If not, they're constantly on your mind, and your ring your mum daily to find out how they're doing without you.
10. Reunions are the best. When you eventually race home to be reunited with your fuzzy friend, you get excited little butterflies at the thought of seeing them again. Chances are, your partner will get a little jealous at how much attention they're not getting from either of you at this moment in time.
11. They cheer you up without even trying. There are some days when they can bug you, frustrate you, and you wish you could just hide under the duvet for a brief five minutes peace. And then there are other days, when you generally don't know what you'd do without your best companion by your side, and you thank every little thing going that you have them. You could be on your darkest day, and that little face will bring you straight back up.
You don't get many best friends like your best friend.
Featured Image Credit: Pexels
Topics: You, BFF, Friend, Pets, Dogs